The first Korea-China container liner in service
SINOKOR MERCHANT MARINE CO., LTD. launched the first Korea-China container liner service in 1989, three years before the official diplomatic relationship between Korea and China commenced.
The Korea-China container liner service initiated by SINOKOR MERCHANT MARINE CO., LTD. has increased the manpower and goods trades at the frontline of the Korea-China trades and contributed to establishing their diplomatic relationship.
In 1989, the company name, "Sinokor Company Ltd" was approved by Hong Kong company registration office and the direct container service route between Korea and China was approved by both governments.
Logistics Innovation in the West Coastal Era
Following the registration of "Sinokor Company Ltd" in Hong Kong, the regular service route for Korea/China container liners opened and was approved by the Maritime and Port Administration in June. "M/V MELISA" became the first vessel to sail in the route, followed by "M/V MACAU VENTURE" as the second and "M/V MILD SPLENDOUR" as the third. The direct route continues until today.
In 1998, for the first time in Korea, SINOKOR provided the direct service connecting Ulsan and Gwangyang ports of Korea to China. It helped reduce logistics costs of Korea's major chemical export products and save time for transport, which enabled timely exports. In 2001, in the route between Pyeongtaek and China where no container services were available before, SINOKOR was the first to open the container liner service that connects Shanghai, Qingdao, Tianjin and Dalian, and is leading the logistics innovation in the age of the West Coast.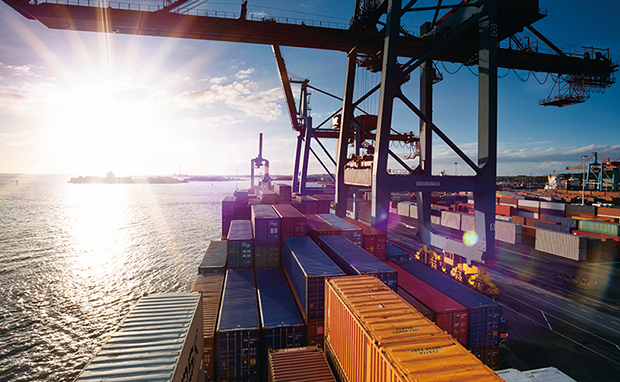 Korea's Sole Excellent Logistics Enterprise (shipping company)
SINOKOR MERCHANT MARINE CO., LTD. is the only shipping company with the Excellent Logistics Enterprise Certificate, which is a logistics-related certificate granted by the Ministry of Land, Infrastructure and Transport. SINOKOR operates direct calling services to about 60 ports in 16 countries including Russia, China, Japan as well as South East Asian countries. There are a total of 34 local subsidiaries and offices in operation.

About 5,000 crew and staff of SINOKOR MERCHANT MARINE CO., LTD. are leading the logistics market by establishing the global logistics network of marine transport, terminals, land transport, warehousing, forwarding, etc. based on their service-oriented mindset, passion and expertise and are striving to provide the customer-first service.
Company Name

SINOKOR MERCHANT MARINE CO., LTD.
Representative Director

Chung, Tae Soon
Kum, Chang Won
Staff & Crew

3,200

people (as of 19.10)