For customer satisfaction, SINOKOR MERCHANT MARINE CO., LTD. has acquired the quality management (ISO 9001) certification by ISO (International Organization for Standardization) under the management policy of 'Customer First' and built the quality management system (SKR-QMS) for international competitiveness.
By acquiring ISO 9001 certificate in July 24, 2000 and converting it to ISO 9001:2015 in August 2018, SINOKOR laid the foundation for business development in response to the globalization and building optimal management system. By acquiring AEO (Authorized Economic Operator, authorized vendor excellent in export/import safety control) certificate in 2013, SINOKOR was officially authorized by the government as safe and reliable in terms of legal compliance and safety control. SINOKOR complies with the safety control standards of the World Customs Organization's import and export supply chain.
In addition, SINOKOR retains the first grade of 'excellent shipowner/shipper' certification by the Ministry of Oceans and Fisheries and is recognized as a shipper-friendly shipping company that creates the virtuous-cycle, which promotes the continuous win-win cooperation among shippers and contributes to the stable maritime transport.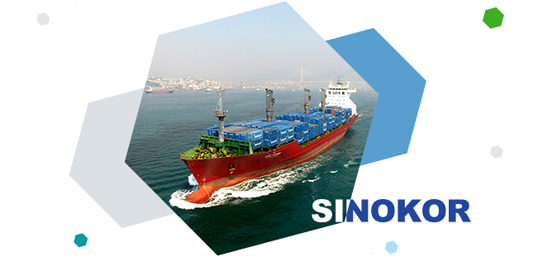 Quality Management Policy
Customer-first policy
Building the optimal management system
Cultivating human resources
Quality Management Goals
1. To impress customers with high quality service

2. To progress businesses in response to globalization

3. To continuously develop the quality management system

4. To provide proper resources, environment and continuous training

5. To secure safe navigation and protect marine environment
Certifications
ISO 9001 Quality Management System Certification

- Certification Scope: Marine Transport Service
- Validity: February 4, 2021 ~ November 12, 2023
- Certification Authority: Korean Register
- Issue Date: February 4, 2021

Certificate of AEO (Authorized Economic Operator)

- Category : Shipping Company
- Rating : A
- Validity : October 1, 2022 ~ September 30, 2027
- Certification Authority : Korea Customs Service

Certificate of Approval

- Scope of Certification : Marine Transportation Services
- Validity : May 18, 2022 ~ November 12, 2024
- Certification Authority: Korean Register

Certificate of Approval

- Scope of Certification : Marine Transportation Services
- Validity : May 18, 2022 ~ November 12, 2024
- Certification Authority: Korean Register